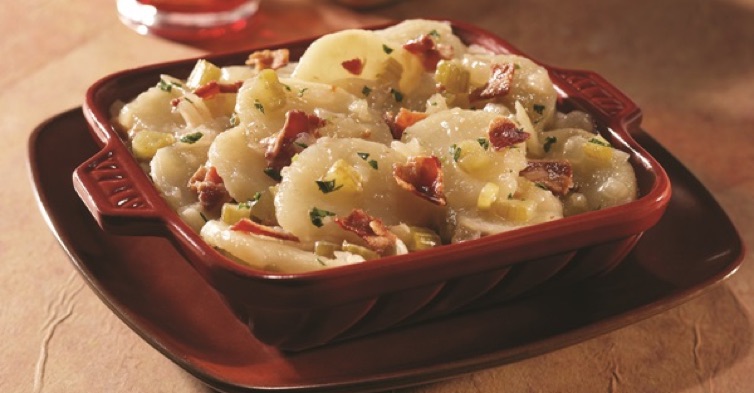 What makes this German potato salad so different is that it's sweet instead of tangy. It is very tasty and a change from traditional mayo based potato salad.
---
TOTAL TIME: Prep: 50 min. Bake: 30 min.
MAKES: 8-10 servings
Ingredients for German Potato Salad
12 medium red potatoes (about 3 pounds)
8 bacon strips
2 medium onions, chopped
3/4 cup packed brown sugar
2/3 cup water, divided
1/3 cup white vinegar
1/3 cup sweet pickle juice
2 teaspoons dried parsley flakes
1 teaspoon salt
1/2 to 3/4 teaspoon celery seed
4-1/2 teaspoons all-purpose flour
Directions for German Potato Salad
In a saucepan, cook potatoes until just tender; drain. Peel and slice into an ungreased 2-qt. baking dish; set aside.
In a skillet, cook bacon until crisp; drain, reserving 2 tablespoons drippings. Crumble bacon and set aside. Sauté onions in drippings until tender. Stir in the brown sugar, 1/2 cup water, vinegar, pickle juice, parsley, salt and celery seed. Simmer, uncovered, for 5-10 minutes.
Meanwhile, combine flour and remaining water until smooth; stir into onion mixture. Bring to a boil. Cook and stir for 2 minutes or until thickened. Pour over potatoes. Add bacon; gently stir to coat. Bake, uncovered, at 350° for 30 minutes or until heated through.